Lago Vista ATA Black Belt Academy is the only Songahm Taekwondo martial arts school on the North Shore of Lake Travis.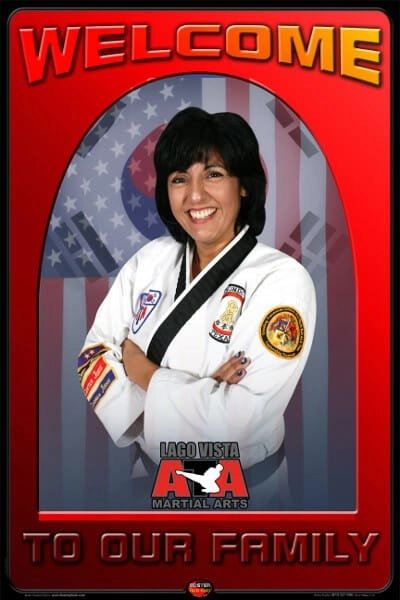 We offer Taekwondo martial arts training for ages 4 & up. During training our students also learn:
Self-Control
Discipline
Self-Defense
Fitness
In addition to martial arts training, we also offer fitness classes, provide an after-school child care facility, and host birthday parties for children.
A Little History
Mrs. Christina Schwartz, school owner and chief instructor, started Lago Vista ATA Black Belt Academy in 2000. The martial arts school had humble beginnings in small, rented office space on Dawn Drive.
The school expanded rapidly and soon had to move to larger space on Lohman's Ford. The majority of students were children, and a few adults started to trickle in. Mrs. Schwartz also started fitness classes in the mornings that quickly became very popular.
For a second time the amount of students outgrew the school, and Mrs. Schwartz decided to build her own new school building on Dawn Drive. The eagerly-awaited new school building was finally completed in September 2003. The new school provided magnificent training facilities, as well as space for an after-school child care center.
Lago Vista ATA Students
Our students are our main asset. Afterall, that's what Lago Vista ATA Black Belt Academy is all about – making a positive difference in the lives of each and every student.
Over the years, many students have joined us and experienced the joy of martial arts. Students have ranged from ages 4 to 65. Many of our students have earned their Black belts. A handful have even gone on to earn their 2nd and 3rd Degree Black belts, and are still working on learning that next skill or pursuing that next goal.
We value all our students, but in some way, there is something special about our White Belt students. They are the ones who have just begun the martial arts journey and who are working hard on learning the basic skills that will eventually enable them to earn their own Black belts. Our instructors find great joy in working with our White belts because they realize what a wonderful opportunity they have to help guide them in the right direction.
We invite you to browse around our website. If you have questions, or would like to sign up for any of our services, please contact us.